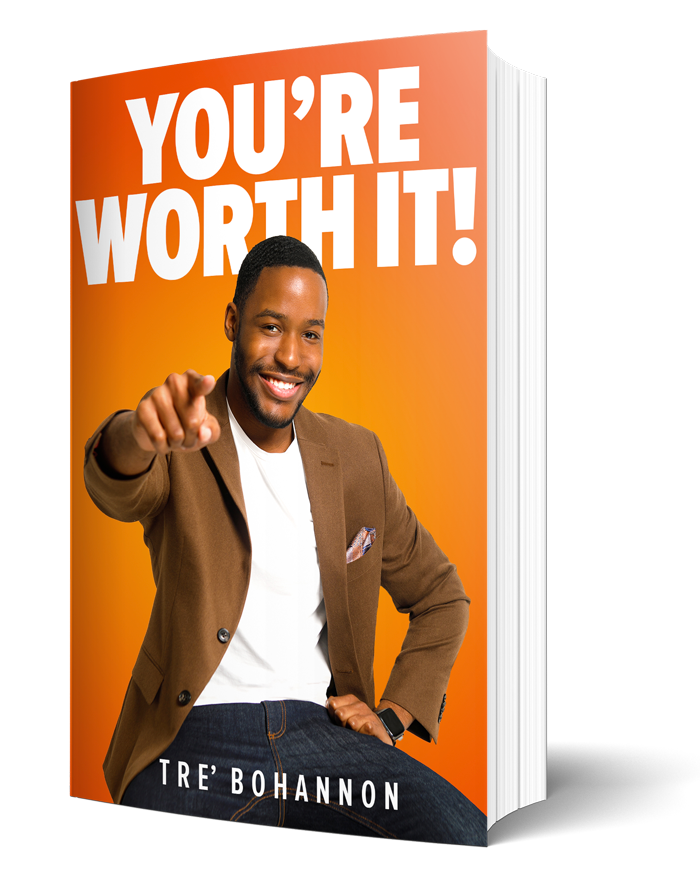 You're Worth It! By Tre' Bohannon
You're Worth It! is a self-empowerment book that explores the intersections of growth, mental health, and personal development, focusing on themes such as self-love, body image, goal-setting, and gratitude. Everyone knows what it's like to be at their lowest point…to feel lost as we try to figure out this thing called life. YOU'RE NOT ALONE!
So, how do you overcome it? How do you combat your depression and anxiety? How do you love yourself more? How do you grow to live a happier life? Through the use of personal stories, affirmations, and actionable tips, You're Worth It! by Tre' Bohannon will show you that there are little things that you can begin incorporating into your life now that will make the biggest impact.
Tre' was able to find happiness and more for himself, and he wants to share with you the mistakes and lessons that helped him get there and continue to help him every single day. Clever storytelling, unique writing style, and a little touch of humor all come together to create a timeless masterpiece that will grab your attention and resonate with individuals of all ages and backgrounds.
You're Worth It!: Uplifting Everyone has their own personal struggles, and this book provides great advice on how to move forward.
Verified Customer
2023-01-30
You're Worth It!: INSPIRATIONAL!!!!!!!! I loved this book!!! The author is so inspirational and the book is filled with life lessons that can work for anyone. 💖💖💖💖💖🙏🏽🙏🏽🙏🏽🙏🏽🙏🏽 Lillie Jones
Lawrence Evans
2022-08-11
You're Worth It!: Great Read! Really nice book! The book is a great read for anyone in my opinion. A real eye opener! Helped me figure out the transition process I have for what's next in my life. Straight forward and gives great insight, while also being real relatable. Love how the book is interactive and I get to practice saying and experiencing the lessons and mindset to have.
Amazon Customer
2022-08-08
You're Worth It!: Relatable! Bohannon does an amazing job at portraying the struggles of a minority at a PWI. His story telling makes it so easy to relate to him and his tips are simple yet effective. I highly recommend this book to high school students who are looking to go to college!
You're Worth It!: This book is definitely 'Worth it!' Tre tells us his story and it is very relatable. He is open and honest about all of his situations and it helped me learn about how I should approach similar experiences. I loved how this book was so easy to read. I finished the book wanting more. I will definitely use what i learned. This is a must read for everyone but anyone going through college or any young adults will especially like this one as it shows they're not alone.
Justice Arthur-Mesere, Jr.
2022-07-16
You're Worth It!: Easy to read and relatable. It is my 5th time reading You're Worth It in a spam of 2 months and it never gets old or boring. This does not only speak to how easy this book is to read but also worth noting is the fact that I pick up a new gem every time I read it.Tre does not only share relatable stories of success, failure, depression, joy, pain and what it feels like to overcome pain, but more importantly, he provides practical actions that anyone can apply despite their journey or where they may find themselves in life. It is very engaging- inviting the reader to be a part of the writing process by providing space where the reader can make comments, leave notes to self or takeaways. Despite the quality of content provided, this book is not bulky and can easily be read within a few hours or spread across days.
Victor Lankford
2022-03-23
You're Worth It!: Life lessons and Life Tips for all! Just finished reading your book awesome 👏🏿 great tool for young and old – i like the tips and places to write and journal! Bravo 🙌🏿
You're Worth It!: A must read! Clever storytelling with a little touch of humor makes this a master piece that will grab your attention. Tre' Bohannon lets you know that you are NOT alone in having stressful and traumatic experience. He offers positive advice as well as tips to control your emotional intelligence triggered by diverse environments. Take the time to understand yourself and buy his masterpiece. "You're Worth It!"
You're Worth It!: Relatable, straightforward, and constructive I loved this book because it was super relatable. Tre' frames each chapter with a personal anecdote which he then supports with perspectives from domain experts. It's easy to get caught up in in a personal challenge that dominates your world. The stories and lessons from "You're Worth It" are a powerful reminder that many of the challenges we face are not unique to us, and that we have the agency and resources to overcome them. I'd strongly recommend this book, whether you're in a rough patch or not.
You're Worth It!: Great Book! I don't like boring books and this book really kept me engaged. I was shocked when I could really relate to this book to the T. This was a very good book